South Knoxville Alliance News
Archives - August 2014
August 21, 2014
Shoney's® Restaurants to Host Free Annual KidCare Photo ID Events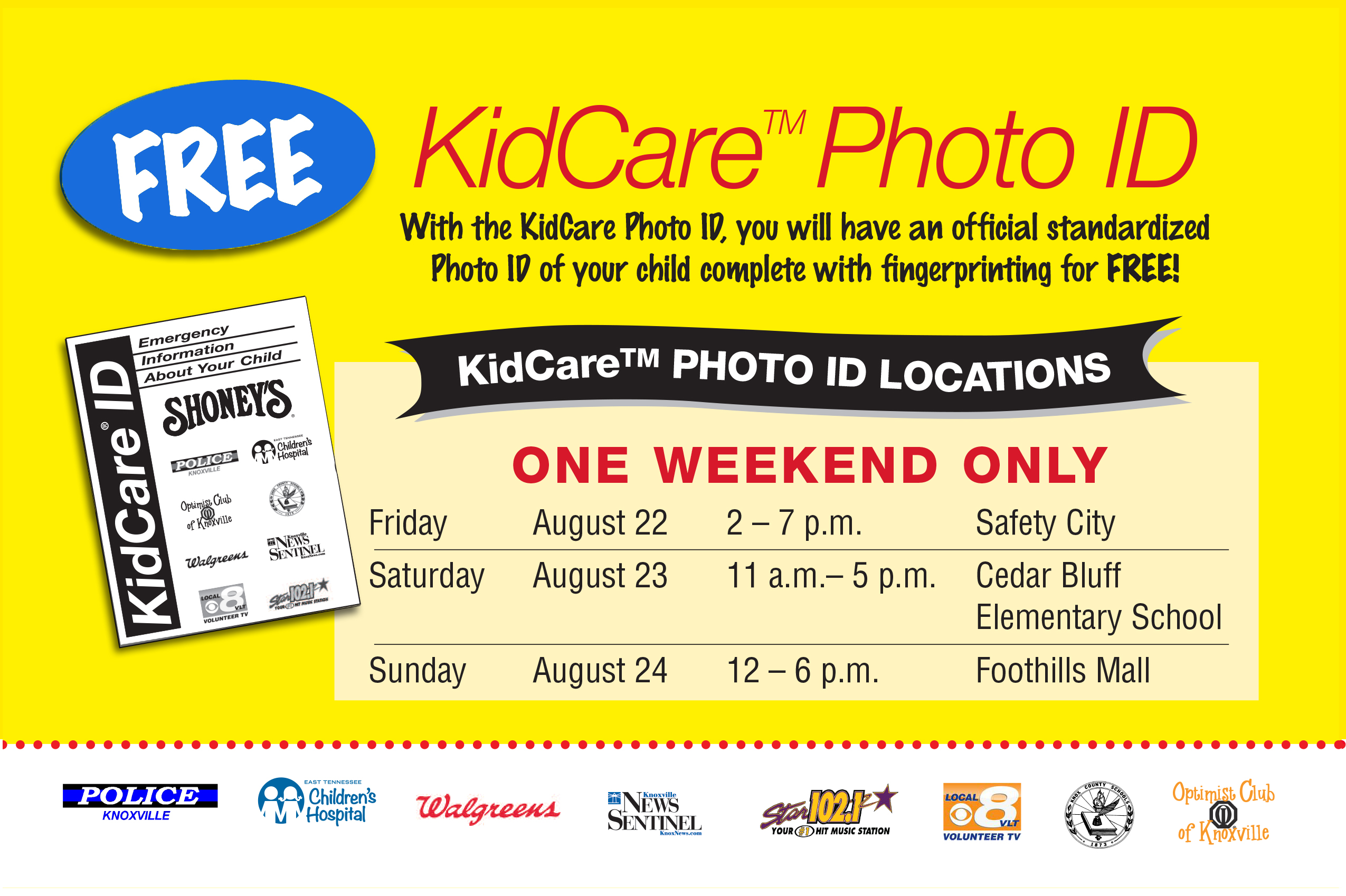 Now in its 20th year, Shoney's Restaurants KidCare Photo ID events will take place in the Greater Knoxville area for one weekend only, August 22-24, 2014, in partnership with the National Center for Missing and Exploited Children (NCMEC).
The events provide FREE KidCare Photo IDs for children, which enable parents to have information readily available for authorities in the event their child is ever reported missing.
The ID's include a color photograph; fingerprints; important information such as: height, weight, and date of birth; a medical profile; the "Seven Rules for Safety;" and a 24-hour NCMEC hotline number. Each participant will also receive a child's "goody bag" filled with fun safety items for their family, and have the opportunity to visit with Shoney Bear.
In celebration of the 20th anniversary of this event, participants can register to win one of 20 "Family Four Pack" of dinner certificates at each location. Participants will fill out an entry form at each location and winners will be notified the following week.
Over the past 19 years, the program has successfully provided more than 37,000 children with IDs. Community organizations involved are the Knoxville Police Department & Safety City, East Tennessee Children's Hospital, The Knoxville News-Sentinel, Walgreens, Star 102.1, WVLT Volunteer TV 8, and The Optimist Club of Knoxville.
Shoney's of Knoxville, Inc., is an independently owned and operated franchise with 20 Shoney's Restaurants in 10 East Tennessee counties.
08/21/2014, 09:52 AM
August 2014
Sun
Mon
Tue
Wed
Thu
Fri
Sat
1
2
3
4
5
6
7
8
9
10
11
12
13
14
15
16
17
18
19
20
21
22
23
24
25
26
27
28
29
30
31
Categories
No categories found.
Monthly Archives
Recent Posts