South Knoxville Alliance News
Archives - June 2014
June 30, 2014
A Special Thank-You from Ijams
Ijams Nature Center reached out to the South Knoxville Alliance last month because they wanted to provide breakfast, lunch, and snacks for the children of the Boys and Girls Clubs of the Tennessee Valley who would be attending Outdoor Adventure Camp at Ijams.
"Our goal with the money that was donated is to give the kids breakfast when needed, make sure they have a good lunch and give them a snack at the end of the day so that we know that we're doing the best we can to get them filled up as much as they can while they're here," Jennifer Roder, camp director, told the Knoxville News Sentinel in this article.
Mary Thom Adams, nature center development officer, said in the same article, she was pleasantly surprised with South Knoxville Alliance's recent donation. She said she asked for a couple of hundred dollars knowing most of the businesses were small, mom-and-pop-type establishments.
Within just a few days SKA members collected $755 in cash and food donations for the kids attending the camp.
"They pulled out the stops for this, and I think it shows a commitment to their community in South Knoxville and a commitment to getting kids outdoors," Adams noted to KNS.
Last week, the Alliance recieved the following "thank-you note" from the campers at Ijams (see below). Thank you Ijams for giving us the opportunity to participate!
Happy campers at Ijams Nature Center's Outdoor Adventure Camp!
06/30/2014, 07:57 AM
June 24, 2014
Green Light: Charter Doyle Petsafe Dog Park
Knoxville and Knox County have made a commitment along with locally based PetSafe to make Knoxville the "Most Pet Friendly Community" in the nation, and South Knoxville is no exception!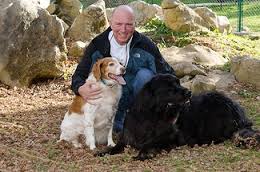 Vice Mayor Nick Pavlis at Charter Doyle Park
Charter Doyle Park is a 26-acre park located in South Knoxville just off of Chapman Highway. The land for the park was donated in 1984 by the Doyle family. The park features an open green space with a backstop for baseball or softball games, as well as room for any other recreational activities. The park also offers a playground, shelter and tennis courts. While the Charter Doyle Greenway borders the park's green space, the Mildred Doyle Nature Trail winds through the woods that border the park- allowing for a peaceful stroll.
In 2011, Petsafe donated funds to convert a 2-acre section of Charter Doyle Park into a dog park- making it the fifth Petsafe Dog Park in Knoxville. The PetSafe Dog Park at Charter Doyle Park, provides individual areas for large and small dogs to play unleashed. Large cedar trees and a dog water fountain offer a cool place for pups and people alike to have fun and cool off during hot summer months. Bring your canine for a walk around the paved loop trail within the main section of the Park or a short hike through the woods on the Mildred Doyle Nature Trail.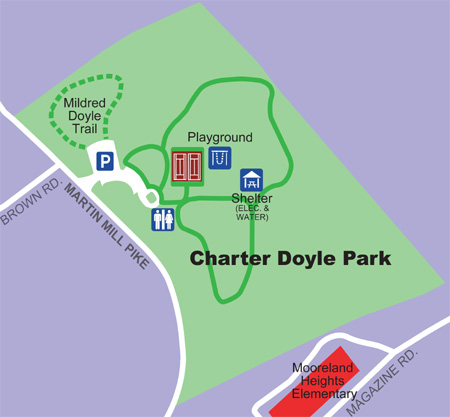 About Charter Doyle Park:
5100 West Martin Mill Pike
865-579-2530
Directions: South on Chapman Highway; right on Martin Mill Pike about two miles; park is on left.
Park Shelter: 865-579-2530
Park Shelter Regulations
Park Shelter Reservation Form [PDF]
06/24/2014, 08:12 AM
June 12, 2014
Green Light: Fort Dickerson
Fort Dickerson Park, located in South Knoxville, is part of Knoxville's 1,000 acre Urban Wilderness. A popular park among Civil War enthusiasts, the 85 acre city park contains what is widely recognized as one of the best preserved earthen forts from the Civil War era. Built by the Federal army in 1863-64, across the Tennessee River from Knoxville, the fort along this high ridge protected the city from the Confederate army. The fort also provided troops with a full view of the city from the ridges beyond Fountain City to the North to the foothills and peaks of the Great Smoky Mountains to the South- a view still enjoyed by visitors today. The fort came under attempted attack in November of 1863, but the Confederate cavalry retreated when they realized they could not take the fort due, in part, to its steep terrain.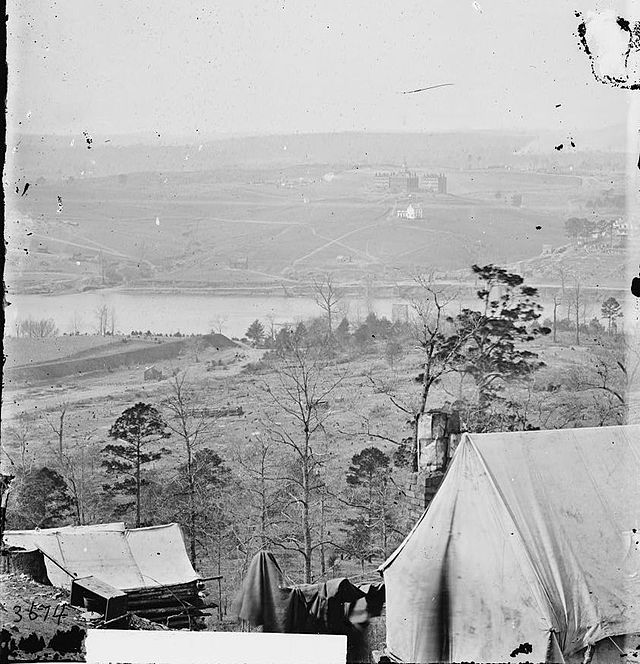 A view of Knoxville in November of 1863.
The fort is the focal point of Fort Dickerson Park which is now maintained by the City of Knoxville in conjunction the Knoxville Civil War Roundtable. Three replica cannons, numerous interpretative signs detailing the fort's history and maps and photos of the actions around Knoxville remain in homage to the fort's fascinating history. Presently, the park offers a serene view of the emerald waters of a 350-foot deep rock quarry located just below the overlook and contains picnic pavilions.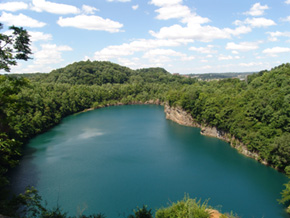 A view of the quarry from Fort Dickerson Park.
The Civil War Roundtable sponsors a Civil War Weekend the second weekend in November with a school day and two days of public tours and military presentations. Popular amongst hikers and mountain bikers alike, Fort Dickerson is also a stop along "Battlefield Loop"- a segment of the Urban Wilderness recreational trail system.

Hours Open: Hours: Daylight to dusk
Directions: From downtown Knoxville cross Gay Street Bridge, turn RIGHT, go two blocks to Chapman Hwy. Turn LEFT, go approximately one mile to top of ridge, turh RIGHT on Ft. Dickerson Rd., travel to top of hill and Fort parking area.
06/12/2014, 08:55 AM
June 09, 2014
Tea & Treasures 2nd Saturday Marketplace
Tea & Treasure
s
2nd

Saturday

Marketplace
Saturday, Jun

e

1

4

th, 10am-

4

pm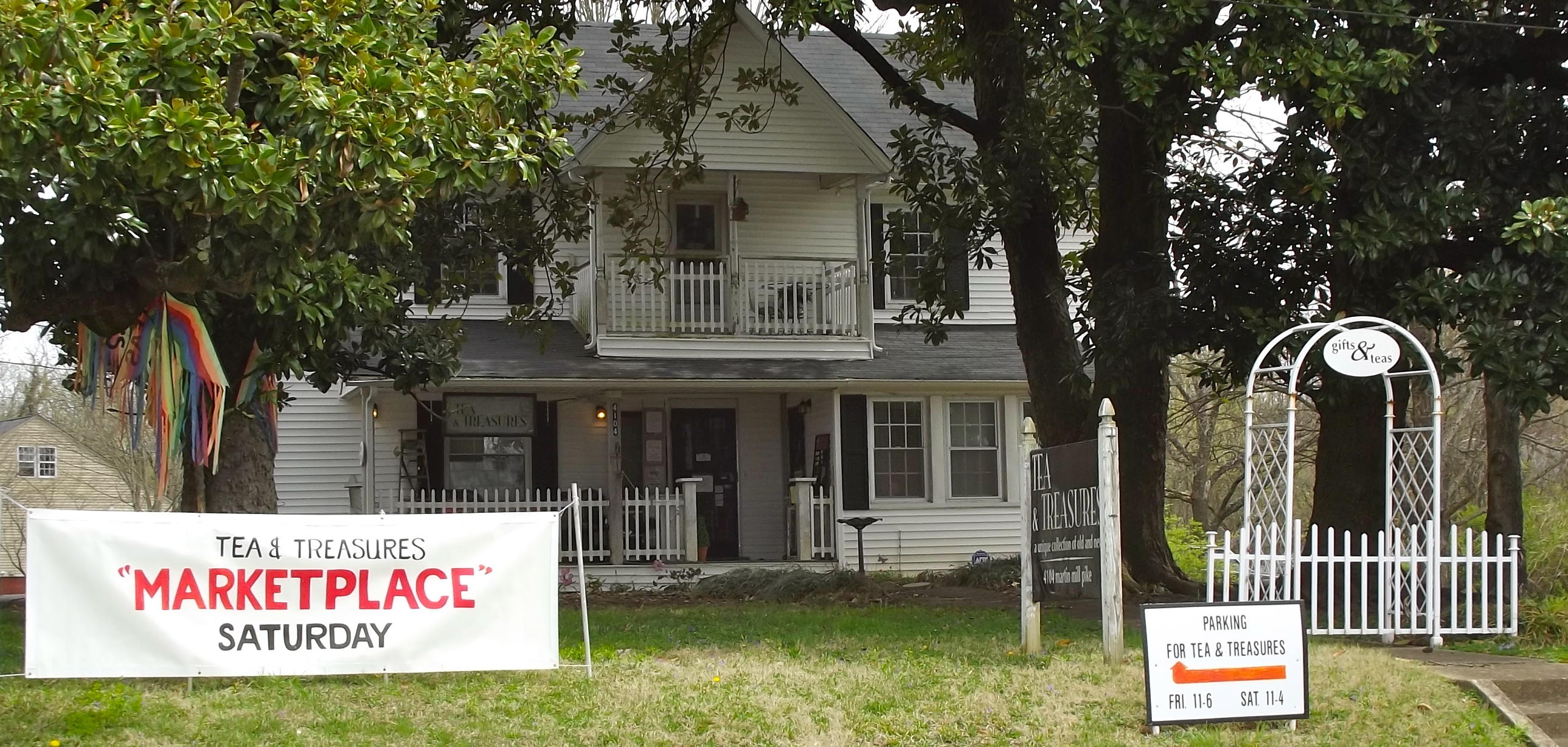 The

marketplace will have

a variety of vendors which could include
*

art

s

& crafts
*

antiques
*

plants
*

books
*

food


*music




*

non-profit organizations
and others promoting their small businesses
Come

join the fun

& shop for Father's Day

!
06/09/2014, 08:20 AM
June 02, 2014
The Tomato Head celebrates Ijams Nature Center
The Tomato Head invites you to join us throughout June as we fundraise for south Knoxville's Ijams Nature Center. Ijams offers over 300 acres of protected wildlife habitat and natural areas with over 12 miles of trails as well as convenient access to Knoxville's Urban Wilderness. As a member and visitor supported nonprofit, your generous donations are needed to continue its ongoing legacy.
"Ijams is excited to partner with Tomato Head and their Loving Spoonful program for the month of June. All of the proceeds for the month will go towards programs to get kids in the Knoxville area active and outdoors," said Mary Thom Adams, Development Coordinator. "The mission of Ijams is to provide engaging outdoor experiences for all people, and with the help of Tomato Head, we are working towards a happier and healthier community here in East Tennessee."
A portion of the proceeds generated at each event go directly to Ijams Nature Center.
· All month (Breaking Bread Fundraiser) Proceeds from the sale of any type of Flour Head Bakery bread at both Tomato Head locations goes to Ijams.
· June 12 (Sandwich Day Fundraiser) Both Tomato Head locations will offer a special Ijams Nature Center sandwich.
· June 17 (Pint Night Fundraiser) Featuring Turtle Anarchy Brewing Company's "More Than Meets the Rye" double dry hopped IPA.
"Ijams is such a positive force in our community that they were an easy choice as Loving Spoonful partners. Their work at preserving our natural environment and making their campus open and inviting for all of Knoxville to enjoy is paralleled only by the beauty of the Ijams park itself," said Tomato Head co-owner Scott Partin.
About Ijams Nature Center
Located three miles from downtown Knoxville, Ijams inspires people to appreciate the outdoors and care for the natural world through direct experience. As well as to encourage stewardship of the natural world by providing an urban greenspace for people to learn about and enjoy the outdoors through engaging experiences.
About The Tomato Head
Opened in 1990, The Tomato Head is committed to helping the community by supporting sustainable agriculture, giving to East Tennessee nonprofits, and recycling its food and packaging waste. Its new charitable donation program,Loving Spoonful, is a partnership between East Tennessee nonprofits, regional craft breweries and the restaurant. It consists of a series of fundraisers and special events with a percentage of the proceeds raised going to our community partner of the month.
06/02/2014, 03:28 PM
June 2014
Sun
Mon
Tue
Wed
Thu
Fri
Sat
1
2
3
4
5
6
7
8
9
10
11
12
13
14
15
16
17
18
19
20
21
22
23
24
25
26
27
28
29
30
Categories
No categories found.
Monthly Archives
Recent Posts