South Knoxville Alliance News
August 04, 2018
1st Annual Run with the Goats! September 30th 2018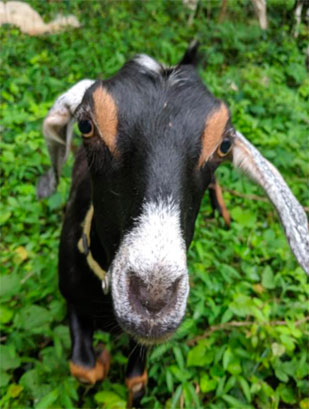 Join us at STAR 1pm Sept 30th 2018 - 3312 Tipton Station Rd Knoxville, TN 37920 for our first official goat run!!
'Run through fields, up hills, and into a pen of hungry goats. Not to worry, we will supply you with food for the goats. Runners must be at least 10 years of age and up. Race starts at 1pm, Goats leave at 3pm.
PRICES
Pre-registration includes admission for 1 runner with vehicle parking pass and a t- shirt.
Early Registration (Before Aug. 15): $25
Aug 15 - Sept. 29: $30
Day of Event: $35
Mini Madness: $10/ guest
$5/ vehicle for non-participants
[ Get Tickets ]
WHAT TO WEAR
Although goats are not vicious, they will nibble clothes, shoe laces, and anything they can fit in their mouth. For this reason, please keep all personal items in a safe location (either in the car or with spectators).
FUN WITH GOATS
This is a FUN run. The shaded arena allows spectators to cheer on runners. Runners will get 1 can of feed for the goats and proceed to the arena to run the obstacle course with goats. Only runners age 10 + can run the course.
MINI MADNESS (NON- RUNNERS)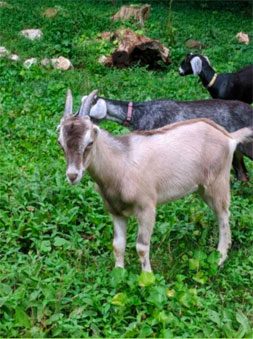 Play with lively Dwarf goats and a lamb. Anyone brave enough to enter this pen of utter cuteness will be taunted by the most playful characters. They may be small but their attitudes are huge!
OTHER EVENT DETAILS
Parking will be provided by the STAR at 3312 Tipton Station Knoxville, TN 37920.
There will be food trucks and refreshments for purchase.
The race begins at 1pm and the goats will leave by 3pm.
---
Sponsors:
Herald Newspaper
"Your Community Newspaper"
---
Contact SKA for an opporuntiy to sponsor this event and the obstacles.
Download our sponsor packet for more information.
08/04/2018, 12:49 PM
July 17, 2018
SOUP's On - Tuesday, July 24th 2018
Come and support the excellent community projects that are being pitched. $5 gets you soup, salad and a vote!!
We extend our sincere appreciation to the South Knoxville Community Center for hosting this dinner. 522 Maryville Pike, Knoxville, TN 37920 - map to location.
Read more about the projects that will be presented here.
A huge THANKS to all our sponsors and those who contributed to help make this dinner a success.
NOTE: we are still accepting raffle items. If your business would like to contribute either an item or a gift certificate, please send an email to contact@KnoxvilleSOUP.org.

---
Raffle Items
Food

Advance Metal Fabrication
Allen Sign Company
Averra Media
Bobbye Edwards, Tea & Treasures Resident Artist
Borderland Tees
Fagan Jewelers
H&R Bock
It's a R-R-Ruff Life
Joe Karl, Publisher of the Herald
Knox Power Equipment & Farm Supply
Love that BBQ
Loveday's Garden Center
Lowe's of South Knoxville
Marble Springs Historic Site
Nails So Happy
Navitat Canopy Adventures
Nick Pavlis
Oliver Royale & Peter Kern Library
Open Reins Counseling
Pancho's Mexican Restaurant
Planet Fitness-South
ROC CØCØ Salon
Round Up Restaurant
Saint Tattoo
Shoney's of Knoxville
Southern Breeze Heating and Cooling
Stanley's Greenhouse

Magpies Bakery
Mike and Jan Brown
The Olive Garden
The Round Up Restaurant
Shoney's Restaurant
SoKno Taco
Southern Breeze Heating and Cooling
Tupelo Honey
Village Bakery
Wee Care Shop
07/17/2018, 01:40 PM
August 2018
Sun
Mon
Tue
Wed
Thu
Fri
Sat
1
2
3
4
5
6
7
8
9
10
11
12
13
14
15
16
17
18
19
20
21
22
23
24
25
26
27
28
29
30
31
Categories
No categories found.
Monthly Archives
Recent Posts